Apex Legends update 1.98 is now available to download on PS4, PC, and Xbox One. According to the official Apex 1.98 patch notes, the latest update added various tweaks and changes. Apart from this, Apex Legends version 1.98 also includes various bug fixes and quality of life improvements.
Previously, a big update was released that added various quality of life changes and fixes. Unfortunately, since the last patch, players are experiencing various bugs and glitches with the game. Today's Apex Legends patch 1.98 will fix a few of these issues.
Read more details below.
Apex 1.98 Patch Notes – June 20, 2022
LIFELINE'S CLINIC
Welcome to Lifeline's Clinic, a new place to heal up and chill out. This new state-of-the-art building is nestled between Gardens and Grow Towers, in the northeast corner of Olympus.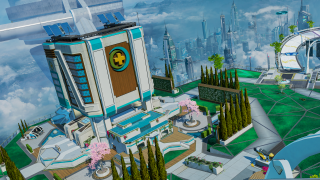 In the center of the Clinic's main floor stands the Med-bay. With it, legends can take advantage of the most refined automated healing system in the Outlands. Whenever injured legends are standing on the platform, a heal tether will activate and attach to them. If the Med-bay is charged, they will get continuous healing. Additionally, the Med-bay's holo-displays will indicate if someone is healing, or if the Med-bay is recharging.
CONTROL LIMITED TIME MODE RETURNS
Control mode returns during the Awakening Collection Event and this time, World's Edge will be joining the rotation with Olympus and Storm Point. Also, check out the new features we'll be adding to Control during the Awakening Collection Event:
Introduce Ad Drones to Control for flavor & storytelling purposes, but yes, you can also shoot them.
Matchmaking improvement – Fill slots of missing players at the start of Control with new players to prevent imbalanced matches.
Added tabs to the About screen – seen in Lobby and accessible in Control matches.

One of the new tabs has a breakdown of Ratings values.
The other has a breakdown of how the spawn system works.
CONTROL LTM QUALITY OF LIFE UPDATES
Turned the match Time Limit back on, and have new logic for determining when the match should end which should fix the issue where matches were ending early
Give players a full ult on respawn if they had one when they died
Tuned down the Ratings given when you spawn on homebase from 75 percent to 50 percent to the next tier.
Fixed issue where players on the end of match podium would be in random positions instead of grouped together in their squads.
Decrease Spawn wave times…

Max Deathscreen time old: 20 secs new: 15 secs.
Spawn Wave Max Time Old: 12 secs New: 10 secs.
First Wave Spawn Max Time Old: 20 secs New: 15 secs.

Turned off enemy highlights and enemy vehicle highlights.
Force players to drain neutral point capture progress before starting to gain capture progress for their own team; if capture progress was made on a neutral point by the enemy team.
GAME BUG FIXES
Fixed Olympus Drop Ship pathing bug where the vast majority of games would start above the Docks area
Crypto can now scan Survey Beacons with his Drone while riding the Trident.
Fixed bug for cases where Newcastle could get stuck in the air for a few seconds when using his Ultimate while ensnared by Ash's tactical.
Fix for Newcastle bug where players are able to fill Revive Shield instantly by throwing a Knockdown Shield and picking it back up.
Fix for Newcastle bug where players are unable to reload while the "Destroy Wall" prompt is onscreen.
Fix for Newcastle bug where using his Ultimate would deploy longer than intended.
Fix for cases where Legends [Newcastle / Seer] could get inside locked Vaults by placing a Totem on Mobile Shield.
Fixed bug where Wraith was able to create a portal while in Revenant Ultimate and have the portal appear next to the totem after being sent back
Add soundFX for Newcastle when he enters a Trident.
Fix UI bug where Legend info would not display in the Firing Range.
IMC Armory fix for situations where players could camp and block spots not intended to be with Wraith Portals and Tridents.
[PS5] – Fix for bug where a player's friends list does not properly update after putting the console in rest mode.
Fix for cases where some larger Legends were sometimes unable to enter Containers on Storm Point when approaching them rapidly at an angle.
Fix for Rampage/Sentinel for cases where the charging animation would show but they won't charge when aiming down sites.
Fix for cases where Bloodhound and Seer scans would persist after the user leaves the game.
[Caustic] – Fix for bug where players could still see the enemy's red highlight while they are in or behind the gas they deployed.
Blood splatter VFX no longer appears when Ash gets shot.
Fix cases where Amped Up" UI persists after Seer uses Heart Seeker passive.
[Control Mode] – Fixed bug for when the enemy team will continue a capture point's progress without needing to flip or undo the other team's progress.
[Control Mode] – Fix for UI bug where the Abandoned Game Penalty is actually longer than the display warns.
[Control Mode] – Fixed bug where picking up a weapon in Control always shows a full mag.
Fix for cases where players appear to keep their thermite grenade after equipping it while using it on an explosive hold.
[PS4 Pro / Xbox One X] – Fixes to improve frame rate issues during gameplay on some areas on Olympus.
[PS4] – Fix to improve performance issues on grassy areas on Olympus.
Arenas: Fix for a bug where music could cut off at the start of a match in Habitat.
Arenas: Fix for visual bug where Legend abilities would stay onscreen during a match.
Various fixes to charging systems in weapons to work more consistently and by design.
Addressed a bug players could remove bullet spread when using ziplines.
Fix for visual inconsistencies in reactive weapons after activating.
Addressed a bug Wattson's Ultimate's shield regen would work through some windows in Command Center.
Tropics Map: Addressed a bug players can be launched by Gravity Cannon while below it.
Added tracker for "Battle Royale Wins".
The following changes were added previously.
NEXT-GEN UPDATES
This patch is also bringing some sweet updates for Playstation 5 and Xbox Series X|S owners. On March 29, we will be launching the native next-gen versions of Apex Legends. You will be able to play your favorite game in native 4K (PS5 & Xbox Series X) along with the game being outputted in glorious HDR. Additionally, we are planning support for more next-gen features in future updates.
Related: Read Apex Legends update 1.93 patch notes.
Improvements over back-compat versions:
| | |
| --- | --- |
| | PS5 & Xbox Series X |
| | PS5 & Xbox Series X|S |
| | PS5 & Xbox Series X|S |
| Higher resolution shadow maps | PS5 & Xbox Series X |
| | PS5 & Xbox Series X |
Coming in future updates:
| | |
| --- | --- |
| | PS5 & Xbox Series X|S |
| | PS5 |
| | PS5 |
| | PS5 & Xbox Series X|S |
| | PS5 & Xbox Series X|S |
Related: How to install Apex Legends Next-Gen Update on PS5 and XSX.
CONTROL IS BACK!
Our limited-time 9v9 mode Control is returning for two weeks with the Warriors Collection Event!
This time around Caustic Treatment on Kings Canyon has been added into the mix. So, squad up, select your loadout, and fight for total control over Olympus, Storm Point, and Kings Canyon. Brought to you by Silva Pharmaceuticals.
THE CAUSTIC TREATMENT
Caustic Treatment has been converted into a three-point battleground for control over Kings Canyon.
Additional cover, ziplines, skydive launchers, and even a hover tank, have been added to the space. This was done with the intent of balancing the area and improving flow to the points.
Caustic's Lab is a highly defensible fortress controlled by the right team and a combination of legends. However, with solid coordination, and a well-timed offensive push, defenders can easily be routed.
Lastly, in true Caustic fashion, you can "expedite the inevitable" by using the terminal inside his lab. Interacting with the console will raise the toxin levels, resulting in a damaging trap for legends attempting to capture B.
NEW ARENA MAP: DROP-OFF
Sitting high above the skyline of Malta is the fully automated Hammond Manufacturing Tower that was constructed for a single purpose: the early production of critical systems for Olympus. CodenamedDrop-Off, the site is still in operation, but at night, Arenas fighters covertly commandeer the place for fierce matches under the smoggy skies.
The POIs in Drop-Off can be primarily thought of as two governing locations: Interior and Exterior. The interior is split across two POIs: Observation Deck and Deployment Line, while the exterior offers the Loading Bay.
The Loading Bay opens up fights across two offensive mid-ground platforms that simultaneously oversee and, again, divide via the Deployment Line. With the night sky visible above, Legends regain access to more… vertically inclined combat options. But beware; with open spaces and an incredibly gorgeous view comes an additional threat: falling to your death.
CONTROL MODE UPDATES:
Addressed a bug where players would not be able to see or select spawn points on the Spawn Menu after dying while stimmed as Octane.
Removed the Turbo Charger from Purple Tier weapons – Players have to get their Ratings up to Gold Tier in order to get it.
Several crash fixes to help with mode stability.
Fixed a UI bug where Mythic ammo icon appears on non-crate weapons when auto-reloaded.
Fix for ammo disappearing from Rampart's mobile Sheila when firing.
G7 SCOUT
Double Tap burst fire delay reduced from 0.475 to 0.375.
Double Tap recoil improvements.
Ammo reserves increased from 120 to 140.
HOP-UPS SPAWN RATE ADJUSTMENTS
Increased spawn rate for Hammerpoint Rounds and Kinetic Feeder.
Reduced spawn rate for Deadeye's Tempo, Shatter Caps, and Boosted Loader.
Bug Fixes in Apex update 1.92
Fixed frame jitter that could appear while spectating a match.
Addressed a bug where Precision Choke was disabled by default on Golden TripleTake.
Addressed a bug where players could leave at the start of a match without being penalized.
Fixed hack where players were able to duel-wield weapons.
Addressed an issue where players would not receive assist credit when damaging Gibraltar's arm shield.
Fix for bug when Crypto's animation would glitch after using a finisher while in death protection.
Addressed an issue where players were unable to perform Ash's skydive emote.
Addressed an issue where the Leaver Penalty warning would always show two minutes regardless of how many times you've disconnected.
Addressed an issue where damaging MRVN would count towards upgrading your Evo Shield.
Addressed a bug Crypto can throw out multiple drones.
Addressed a bug Pathfinder is able to grapple enemies indefinitely.
Addressed a bug players are able to reset Wraith's Tactical cooldown by ending her phasing while entering an Ash's Portal.
Fix for visual inconsistencies in Bloodhound's Cyber Hunt skin.
Apex Legends the Warriors Collection Event Update Release Time
March 28, 17:00:00 UTC (Release for 50% Players)
March 29, 05:00:00 UTC (Release for 100% Players)
March 29, 17:00:00 UTC (Available to Install and Play)
Download free Apex legends version 1.92 on PlayStation 4 and Xbox One.