WWE 2K19 update 1.03 for PS4 is now rolling out for players. According to the official WWE 2K19 1.03 changelog, the new patch has added support for the WWE 2K19 New Moves Pack. In addition, the latest WWE 2K19 version 1.03 also contains minor fixes for server performance, game crashing, stuttering/lag, and more.
Previously, abig updatewas released with fixes and gameplay improvements. Unfortunately, since the last patch, many players are experiencing a number of issues when trying to play. Today's WWE 2K19 patch 1.03 for PS4 is expected to fix a few of these issues. Check out more details below.
WWE 2K19 Update 1.03 PS4 Changelog (Updated)
Universe mode
The proper menu displays when using a Superstar unlocked via VC and assigning them a custom title in a show. Also, the title will no longer soft crash when attempting to load into the edited show.
No additional manager will appear when customizing a normal match with managers and then switching to another Superstar with two managers.
Fixed issue with normal matches with managers when the target menu would appear when selecting participants for an entrance run-in. The target menu no longer appears, and if a match participant is selected for a normal match with managers, their opponent will be automatically the target of the entrance run-in.
Gameplay
Fixed soft crash when using some specific side plate designs in a custom title and then assigning that title to a Superstar with custom side plates.
MyPlayer
Fixed issue with players not receiving a new move when purchasing from the store and closing out of the game during the loading screen immediately after. Now players that do this will retain their VC and are free to purchase that move again if they like.
Towers
Players are now able to reverse the A.I.'s signature and finisher after a comeback has been successfully performed in the Million Dollar Tower.
Added support for the new WWE 2K19 Moves Pack. The new pack will cost $3.99. If you have the Wooooo! Edition, Deluxe Edition, or Season Pass, you'll be able to get it on day one at no additional cost.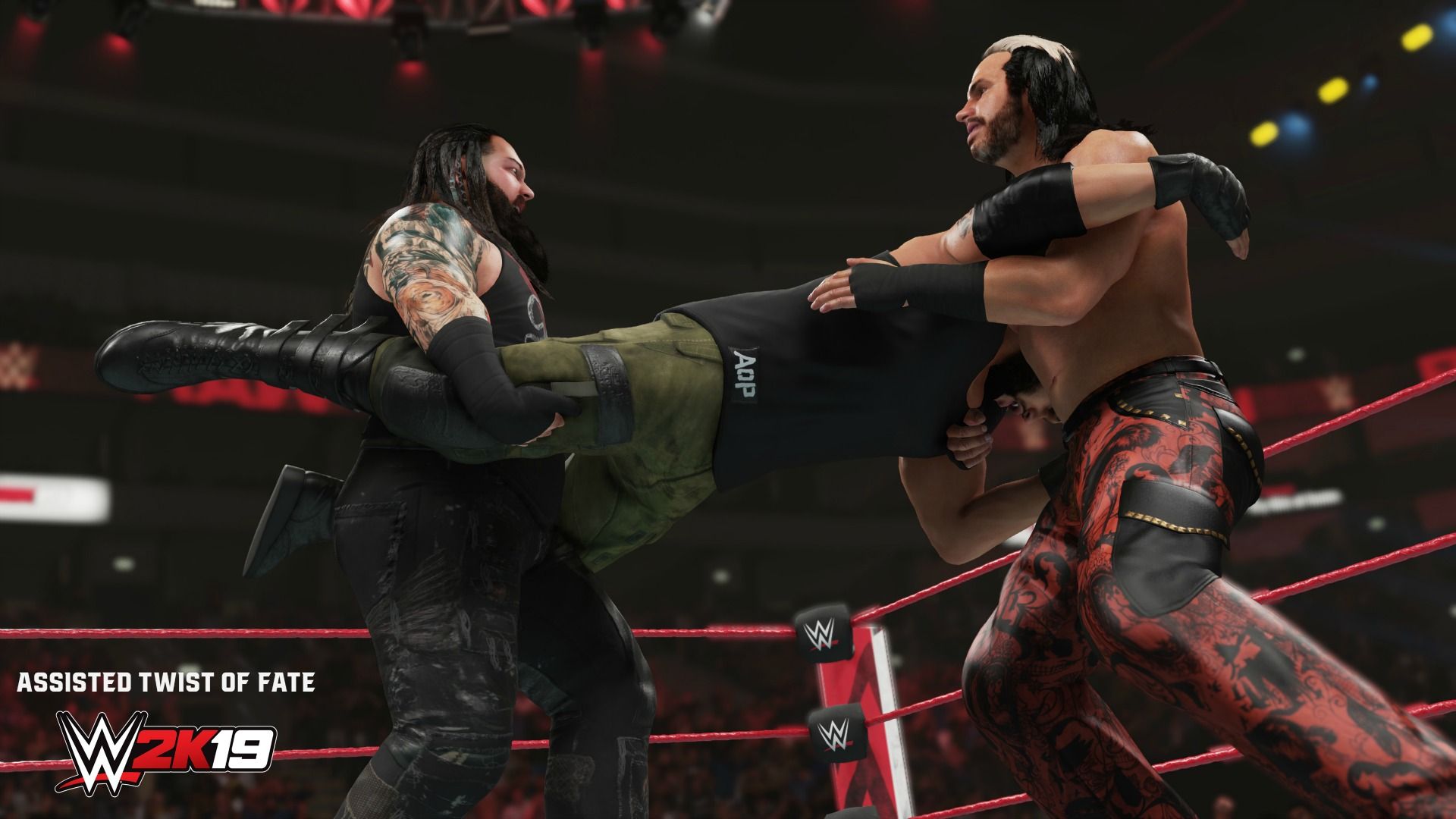 Check out the moves below and watch our social channels for information on official release date coming shortly.
Springboard Stunner 3
Exploder Suplex 10
Wonderful 4
Assisted Twist of Fate
Avalanche/Side Effect Combo
Running Senton/Leg Drop Combo
Claymore/Zig Zag Combo
Matt Hardy 6
Diving Moonsault 5
Shooting Star 4
Inverted Phoenix Splash
Double Rotation Moonsault
Springboard Corkscrew Moonsault
Springboard Shooting Star
Tombstone Piledriver 3
Hammerlock DDT 3
Rope Hung Lungblower
Middle Rope BME
Springboard Sling Blade
Spinning Handstand
Springboard Superkick
Springboard Spanish Fly
Spinning Brainbuster
Discus Clothesline 4
Suplex Piledriver 2
F-5 4
Elevated Flatliner
Fisherman Driver 3
Wheelbarrow Leg Drop
Best Kept Secret
Deadlift Yokosuka Cutter
Murphy's Law
Slingshot X-Factor
Inverted Atomic Drop/Leg Drop Combo
Powerslam/Headbutt Combo
Electric Chair/Bulldog Combo
Time Bomb
Avalanche Powerbomb
Pop-Up Hurricanrana
Dragon Twist Cutter
Handspring Back Elbow/450 Splash
Deadlift Powerbomb 2
Half & Half Suplex 3
Inverted Olympic Slam
Rainbow Cutter
Deadlift Apron Suplex
Spiral Tap
Hip Toss Chokeslam
Springboard Feint
Air Raid Crash Neckbreaker 4
Pumphandle X-Factor
Stormbreaker
Torture Rack Back Stabber 2
Half Nelson Uranage
Knee Strike/Moonsault Combo
Strike Blitz/Mushroom Stomp Combo
And more
Other Fixes in WWE 2K19 patch 1.03
Added fixes for crashing issues with WWE 2K19 patch 1.03.
Fixed some glitches.
Added fixes for framerate drop and freezing issues.
Added fixes for stuttering/lag issues.
WWE 2K19 1.03 for PS4 added performance and stability improvements.
Gameplay improvements added with WWE 2K19 1.03.
Added other minor fixes and changes with WWE 2K19 version 1.03.
WWE 2K19 update 1.03 for PS4 is now available for download.