Rugby 22 update 1.03 (1.002.000) is now available to download on PC, PS4, PS5, and Xbox One. According to the official Rugby 22 1.03 patch notes, the latest update added various bug fixes and quality of life improvements. In addition, the Rugby 22 patch 1.03 (1.002) also includes stability fixes.
Recently, the game was released with positive reviews. Unfortunately, since the release, players are experiencing a number of issues while playing the game.
Today's Rugby 22 version 1.03 update is expected to fix a few of these issues. Check out more details below.
What is new in Rugby 22 February 2 Update?
Adjustments to AI and gameplay features
New Sealand players' updated:
Cane sam
Barret Jordie
Havili david
Taukei'aho Samisoni
Perenara TJ
Hairs textures have been updated on the France and New Zealand teams to avoid the glittering effect on rainy weather
Fixed an issue displaying gameplay hud above meshes as instead of under them
Official ads for top 14 and Pro D2 have been updated
Updated France logo
Fixed a crash occurring sometimes with the weather set on rainy specific stadiums
Addressed crashing issues.
Addressed game controller-related issues.
Fixed audio-related issues.
Fixed issues related to UI.
Performance and stability improvements.
Added fixes for stuttering/lag issues.
Other under the hood fixes.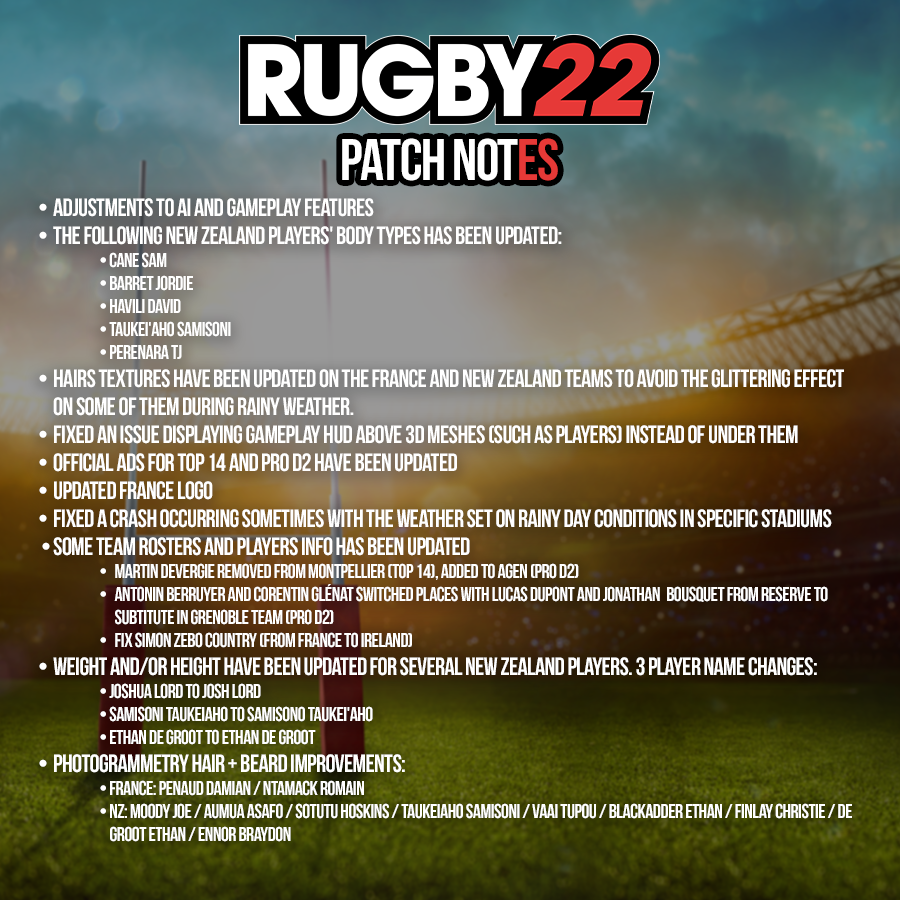 Download free Rugby 22 update 1.03 on PS4 and Xbox One.