A new NBA 2K22 patch 1.08 is now rolling out on PS4, Xbox One, and PC. The official NBA 2K22 1.08 patch notes are not available yet. However, players are reporting various login and network connection fixes. Apart from this, NBA 2K22 update 1.08 also includes performance improvements.
Previously, a major update added a long list of bug fixes and gameplay changes.
Unfortunately, since the last patch, players are facing various error codes and disconnection issues. Today's NBA 2K22 version 1.08 will fix a few of these issues.
Read more details below.
NBA 2K22 Season 3 Update 1.08 Download Size
PS4 – 47GB
PS5 – 2GB
Xbox – 70GB
NBA 2K22 1.08 Patch Notes – Dec 1, 2021 (Updating)
NEW CONTENT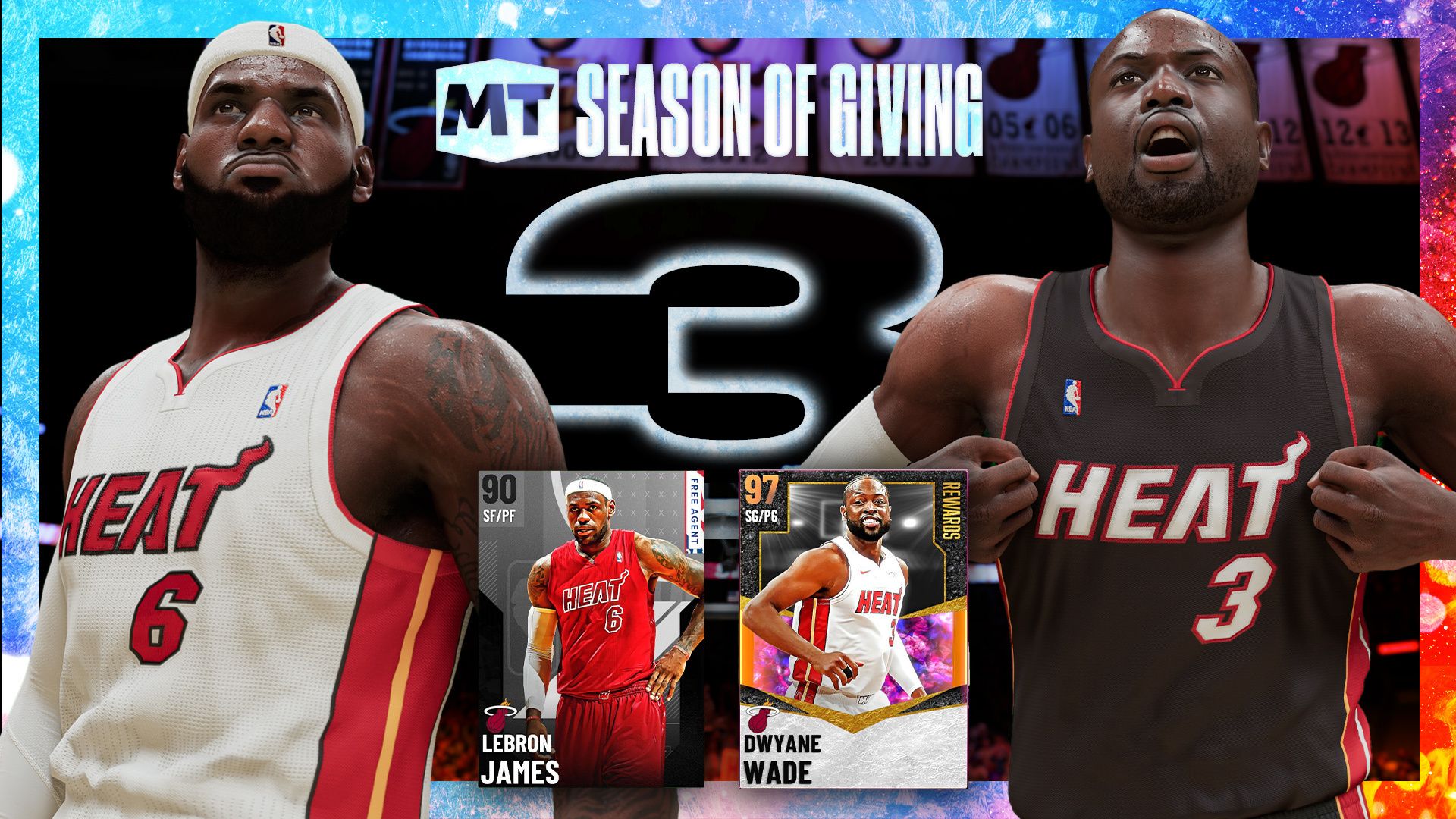 Heat up the holiday season in style as you start your Season 3 journey in South Beach, with reigning Finals MVP LeBron James' Free Agent card. Re-create iconic moments from NBA superstars past and present, in brand-new Spotlight Challenges across Triple Threat AND 5v5 game modes. If you don't have the players, stay tuned to the NBA 2K21 MyTEAM social channels and in-game menus for exclusive locker codes.
Play through Shaq's favorite moment in his career, as chosen by the Big Fella himself! During Game 7 of 2000's WCF vs Portland, Shaq threw down his iconic alley oop after a lob pass from none other than Kobe Bryant. To complete his Signature Challenge, score 89 points as a Team and get at least 1 Dunk to earn a HOF Shaq-esque Badge + Diamond Shoe. Redeem the locker code below for your free Emerald Shaq MyTEAM card.
There's more new content, challenges, players and opportunities to earn big rewards EVERY DAY during Season 3 in MyTEAM. Take part in Limited-Time Events, unlock exclusive MyTEAM rewards, redeem free Locker Codes and play through all the Spotlight Challenges and you could earn yourself Galaxy Opal Baron Davis! Plus, complete Season Agendas, which are updated DAILY, to earn Season XP and unlock the Season of Giving Grand Prize – Galaxy Opal Dwyane Wade.
LINEUPS & COLLECTION UPDATES
New Packs and Collections are available throughout Season 3: Season of Giving. Check out what's available in MyTEAM today!
Shaq Signature Challenge

Available Nov. 25th – Jan. 8th

Complete Shaq's Signature Challenge by scoring 89 points as a Team, getting at least 1 Dunk to earn a HOF Shaq style Badge + Diamond Shoe. Redeem the locker code above for your free Emerald Shaq MyTEAM card.
NBA 2K21's IDOLS collection tips off Season 3 with a splash. Sharpshooting, two-time champion Kevin Durant is the next IDOL to grace MyTEAM. He joins NBA legends Manu Ginobili, Dominique Wilkins and Grant Hill as the first current player to join this coveted collection and the fourth of five players to drop in Series I. Completing the IDOLS Series I collection will earn you one of the first Galaxy Opal cards available in MyTEAM.
Stay tuned for all-new Season of Giving-themed content releasing throughout the Season to earn great collection rewards.
NEW LIMITED AND PROGRESSION TIERS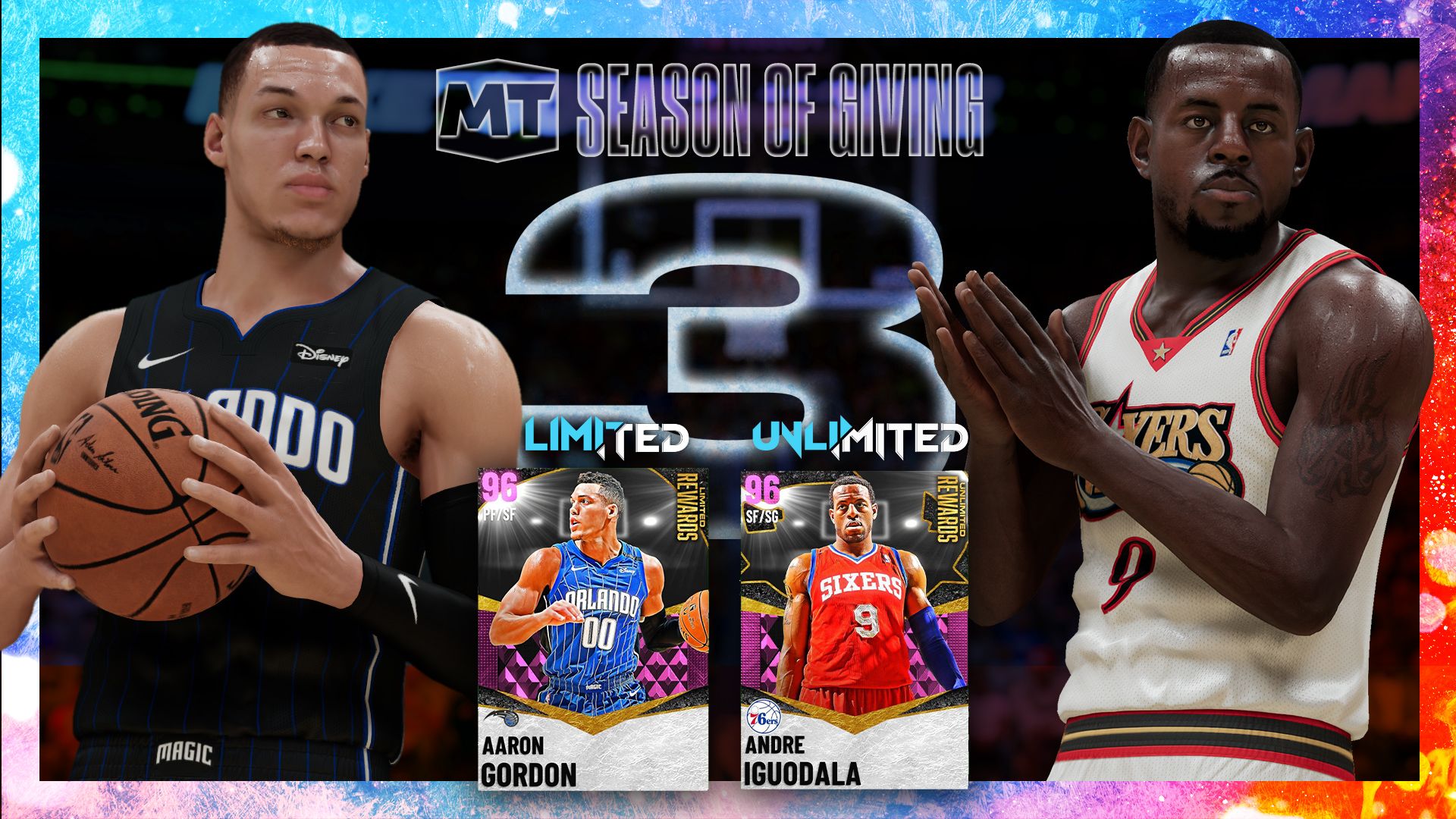 MyTEAM Limited remains one of the best places to earn great rewards! NBA 2K21's new competitive mode returns every weekend in Season 3, with new lineup requirements, new rewards and of course, those highly-desired Championship rings. Collect all 6 rings to earn the Season 3 Limited Grand Prize – Pink Diamond Aaron Gordon.
Alternatively, you can take your best lineup and climb up the MyTEAM Unlimited ladder. Do you have what it takes to go undefeated? Play your way through 9 Leagues to reach the top. In order to advance, you'll need to win a certain number of games, with more and more wins required as you move up the league structure and earn rewards. Go 12-0 in Season 3's Unlimited Opal League to earn Pink Diamond Andre Iguodala.
Earn your spot in GameDay 3 of the $250K MyTEAM Unlimited Tournament on January 2, by reaching Emerald Tier and test your skills against the best MyTEAM players in the world. There's huge prizes up for grabs, including a $200K Grand Prize and $50K for the Runner-Up!
Bug Fixes
GENERAL
Lots of preparation for Season 3 of NBA 2K22, launching this Friday at 8AM PT/11AM ET/4PM GMT!
A Gatorade app is now available on the in-game phone when on the cruise ship
Slowed down lateral dribble launches and added a shooting penalty that applies for players who zig-zag from side to side excessively before shooting
Fixed an issue that was causing ball handlers to hitch and slow down when running in transition
Adjusted the Intimidator badge to apply to jump shots in addition to dunks and layups
MyTEAM
Fixed an issue with Free Throws not visually tallying points in the in-game Agenda Tracker
Prevented Series I Agendas from qualifying for all players in the Agenda Tracker
Certain Event Cards will now display their names in Auction Outcomes
Addressed a few stats that were not updating in the MyTEAM menus
Speed nerf added to the game.
Left Righting issue is now addressed.
Added network connection improvements.
Addressed login and disconnection issue.
Addressed crashing issues.
Addressed audio issues.
Added online stability and performance fixes.
Other minor bug fixes.
The full changelog will be available soon. We'll update it here.
Download free NBA 2K22 patch 1.08 on Sony PlayStation 4, PC, and Xbox One.