NBA 2K22 patch 1.05 is now available to download on PS4, Xbox One, and PC. According to the NBA 2K22 update 1.05 patch notes, the latest update added gameplay optimizations, fixes, tweaks, and more Apart from this, NBA 2K22 version 1.05 also includes performance improvements.
Previously, a minor update was released with stability and performance improvements. Unfortunately, players are still facing several login and disconnection issues. Today's NBA 2K22 patch 1.05 will fix a few of these issues.
Read more details below.
NBA 2K22 Season 2 Details
MyCAREER
Packed with career-altering decisions, engaging drills and practices, lucrative endorsement deals, and the best competition in the world, MyCAREER is all about delivering the most authentic experience. Ascend to the top and know what it feels like to be the face of not only a franchise, but the league. Michael Jordan paved the way for many of the NBA's modern-day stars, but will you follow in his footsteps and build an empire of your own? GOAT is a term that's thrown around a lot nowadays, but who's to say you can't become the real GOAT? In Season 2, pour every ounce of energy into proving you can be the best. All eyes are on you and it's time to take care of business. The fun is only just beginning in NBA 2K22 and there's so much more to share, including a new Grand Prize for Season 2, as well as some new events.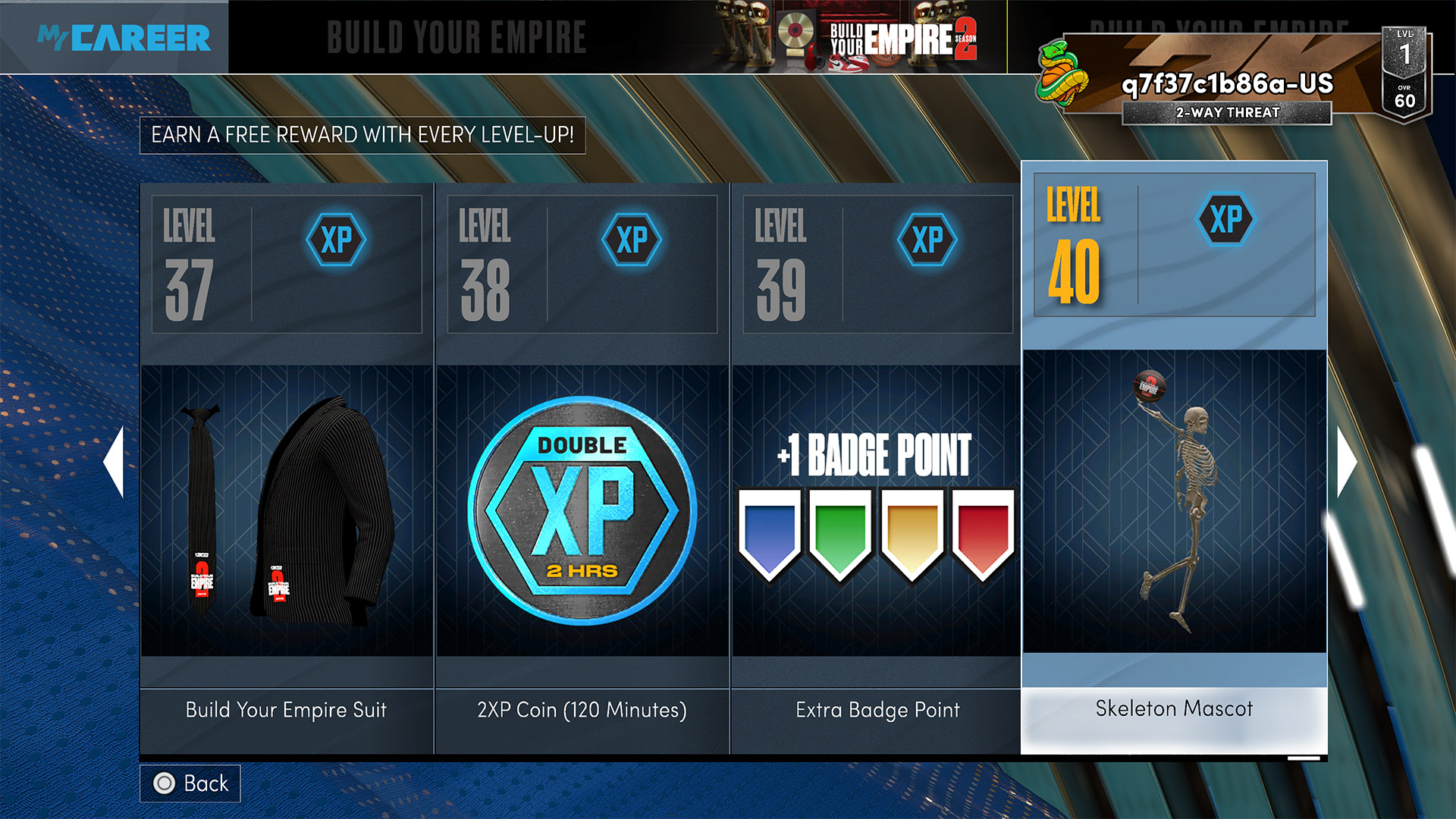 Before we dive into the Level 40 reward, players can redeem a Breast Cancer Awareness shirt at Level 1. Pink Ribbon Day is October 22, the same day as the launch of Season 2, and in the spirit of raising awareness we ask that you show your support by rocking this awesome tee. Last season, players who reached Level 40 earned a new vehicle: the lightning-fast go-kart. In Season 2, we're offering a Skeleton Mascot outfit for players dedicated enough to reach the final tier. Leveling up is based on earning XP and there are a few ways to accumulate it. Start by heading to any court or gym within the City or on the Cancha Del Mar and you'll earn XP simply by playing games. Games and events are the main way to rack up experience points, and events offer unique experiences as well. In addition, XP can be earned by completing quests throughout The City or The Neighborhood. You can check your Quest Log by opening the menu in-game and by selecting a quest you'll set a waypoint to its location. Many quests can be completed by playing various game modes or posting explicit stat lines, but don't forget to attempt challenges that can be accomplished simply by exploring. Whether they're daily quests or long-term quests, checking them off one by one will get you one step closer to Level 40 and a new Grand Prize.
ALL-NEW QUESTS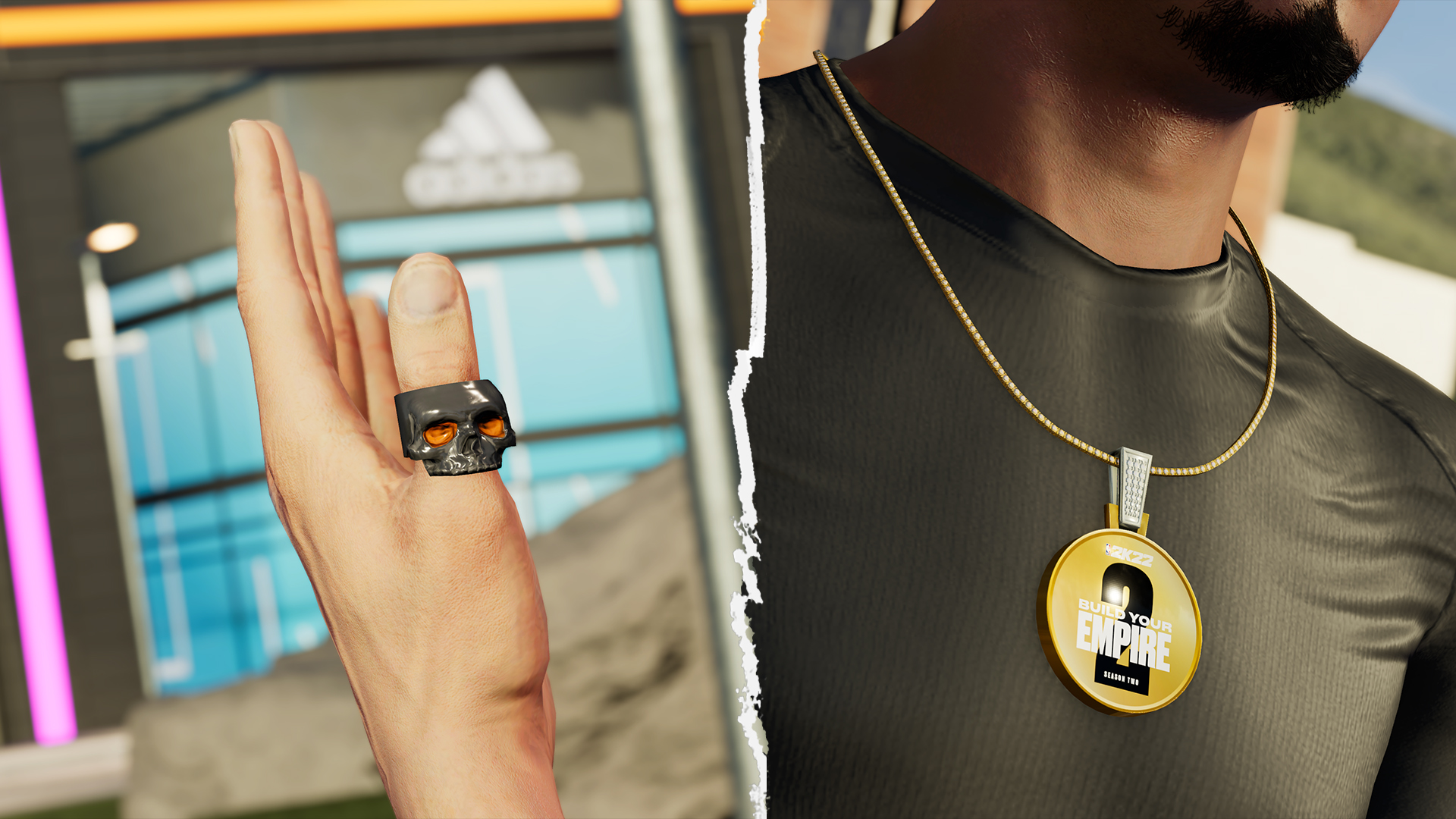 Coming to Season 2 is an all-new quest allowing you to ball out from the get-go. Rebirth, making its debut in NBA 2K22 MyCAREER, gives players the opportunity to jump to a 90 overall on new-gen or skip 10 pre-completed MyPOINTS levels on current-gen, but only after earning the Rebirth reward. For new-gen players, you must first obtain the quest from ATM by the NBA Store and Club 2K before you can begin completing 10 3v3 or 10 2v2 City games with a 90 overall rating or higher to unlock Rebirth. Current-gen players will need to complete 10 3v3 games once they reach a 90 overall rating to earn Rebirth.
Once achieved, players will be able to choose between a normal save file or a Rebirth save file when creating a new MyPLAYER, and can create a Rebirth save more than once. By creating a Rebirth save, players will open the door to myriad new rewards, such as Badge points, and more. From the jump, up to 30 Badge points on new-gen and up to 20 Badge points on current-gen will be spendable and available for upgrades, which should go a long way toward improving your MyPLAYER. Regardless of your platform, players will benefit from a generous head start in a number of categories. Lastly, Season 2 comes with fresh new quests and shiny rewards for completing them, including a Skull Ring and a medallion that glistens around your neck. These rewards are available for all players in Season 2!
EVENTS & ENVIRONMENT UPDATES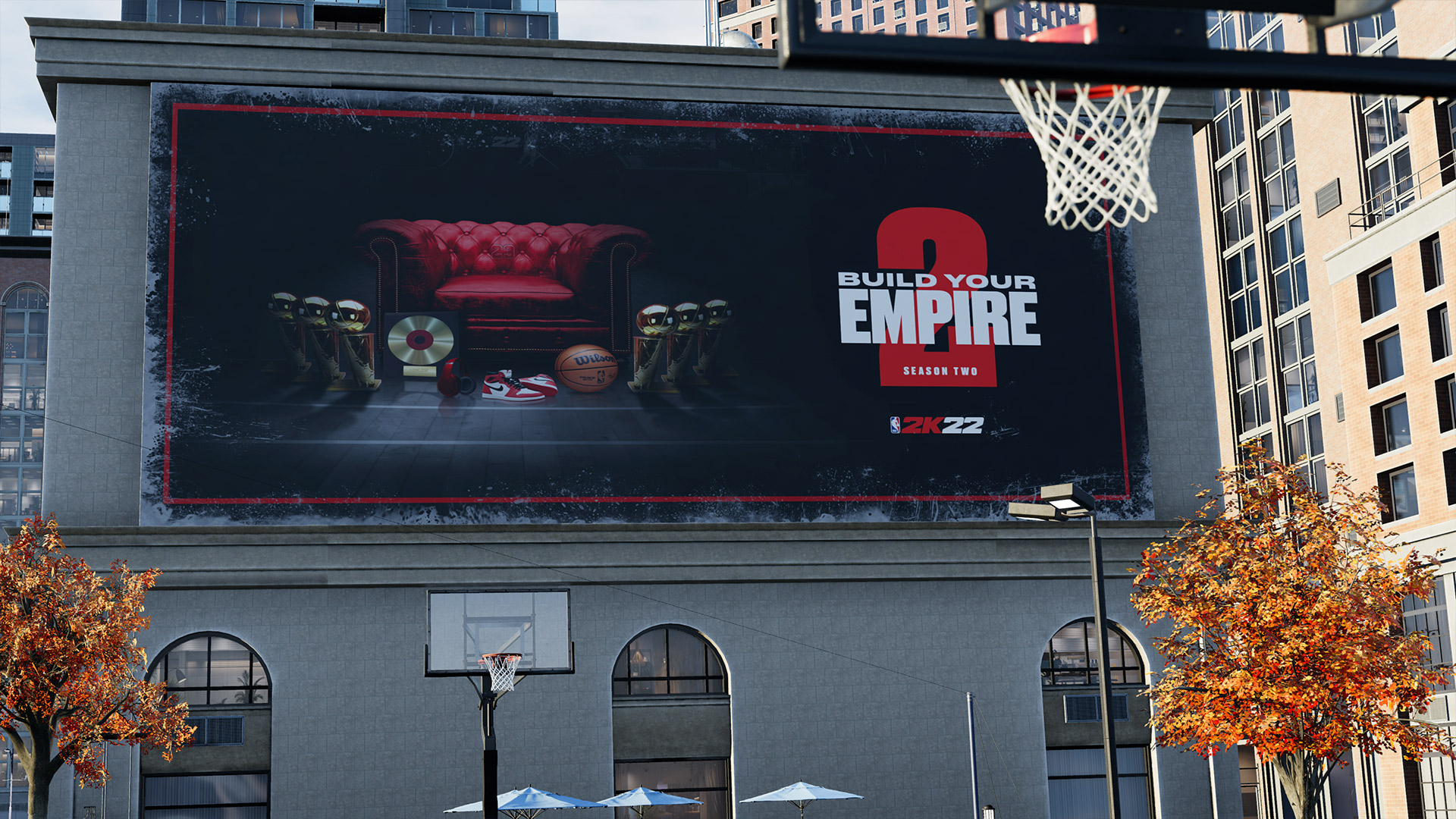 Fall is in the air, which means the holidays are nearly upon us. It's that special time of year when family and friends come together to join in the festivities, but those won't be the only events on your calendar this year. NBA 2K22 has several events coming down the pipeline on both new-gen and current-gen consoles; you could fill up a trick-or-treat pillowcase. The fun kicks off Friday, October 22, at 9 p.m. PT with a party at Club 2K, where you celebrate the start of Season 2 by listening to all the newest music while earning 2XP. Club 2K only available on PlayStation 5 and Xbox Series X|S. Season 2 will feature a trio of special events around the City: Mobil 1 Grand Prix, Ruffles 4-Point Ridge Tournament, and the Kia Challenge. By participating in each event and following the rules, you can earn exciting rewards both in-game and real life. Ruffles is offering a trip to Cleveland for the 2022 All-Star Weekend, an NBA Store gift card, an in-game go-kart, and much more. The Kia Challenge will pit players against NBA players, other players, and even mascots in a Cage Match duel — look out for Benny the Bull. All Kia games earn you 2XP and completing challenges will earn you rewards. Open to legal residents of 50 US and DC that are 13+. First event begins 9/25/21 at 3:00 p.m. ET. Last event ends on 1/29/22 at 3:00 p.m. ET. For full Terms and Conditions and complete details see Ruffles.com/NBA2K.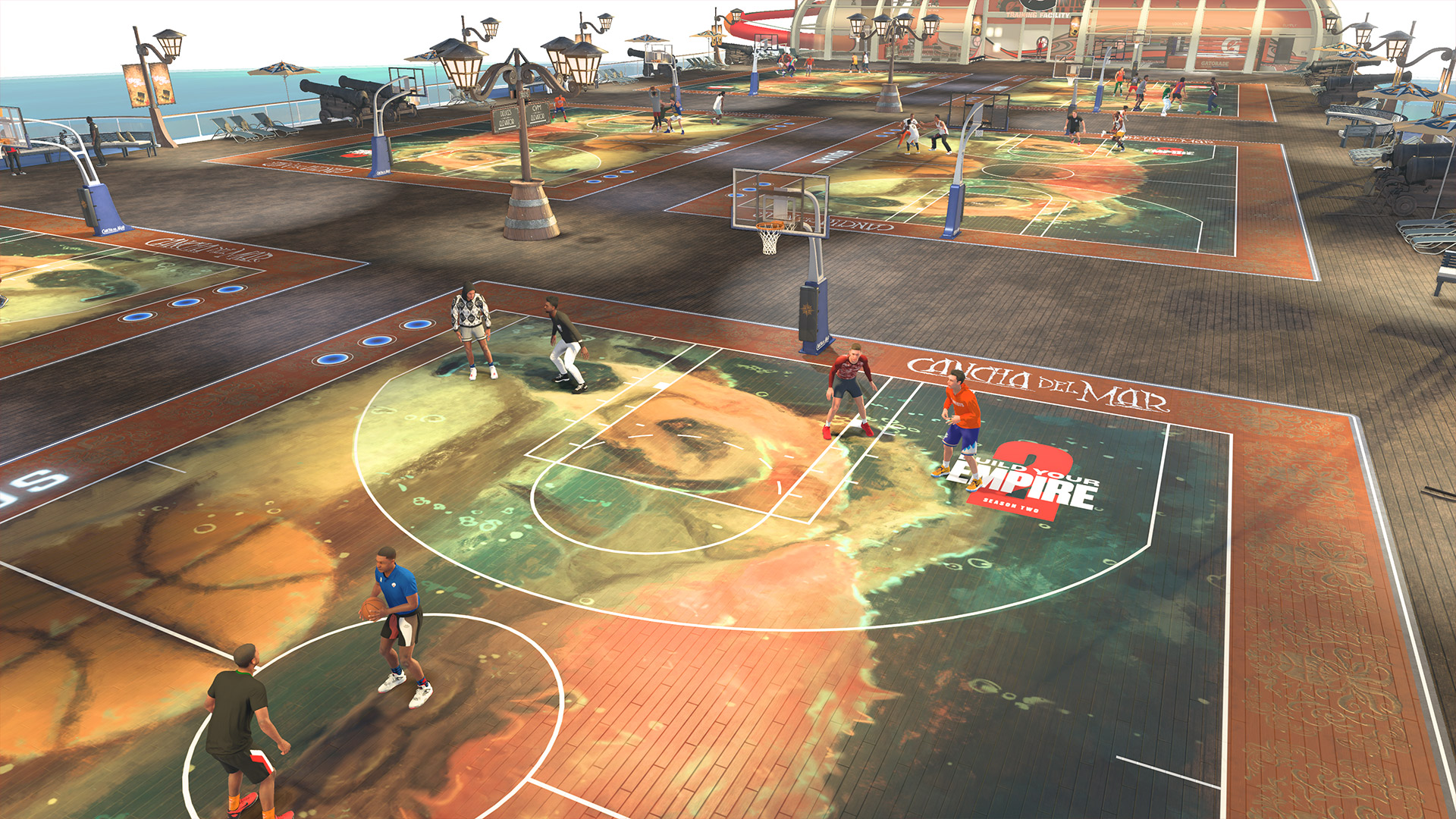 With the changing of seasons comes some slight changes to the scenery around the City and on the Cancha Del Mar. Halloween is climbing aboard and giving the ship a Caribbean makeover from the Lobby to Deck 16. Inspired by gothic architecture and pirate themes, you'll notice spooky decorations, like Day of the Dead colors, festive new court designs, and changes to the outdoor environment.
On October 31, players will be treated—pun intended—to a massive Halloween extravaganza where darkness will blanket the City, titled "The Long Night." All day long, players can trick-or-treat in the dark and receive banners, consumables, VC, and more. On new-gen, over 30 houses and store locations will turn into trick-or-treat locations around the City. For our current-gen fans, players must search decks 4, 15, and 16 to claim their treats. Lastly, earn 2XP by playing games, but once the clock strikes midnight PT, Halloween and 2XP will vanish into the night.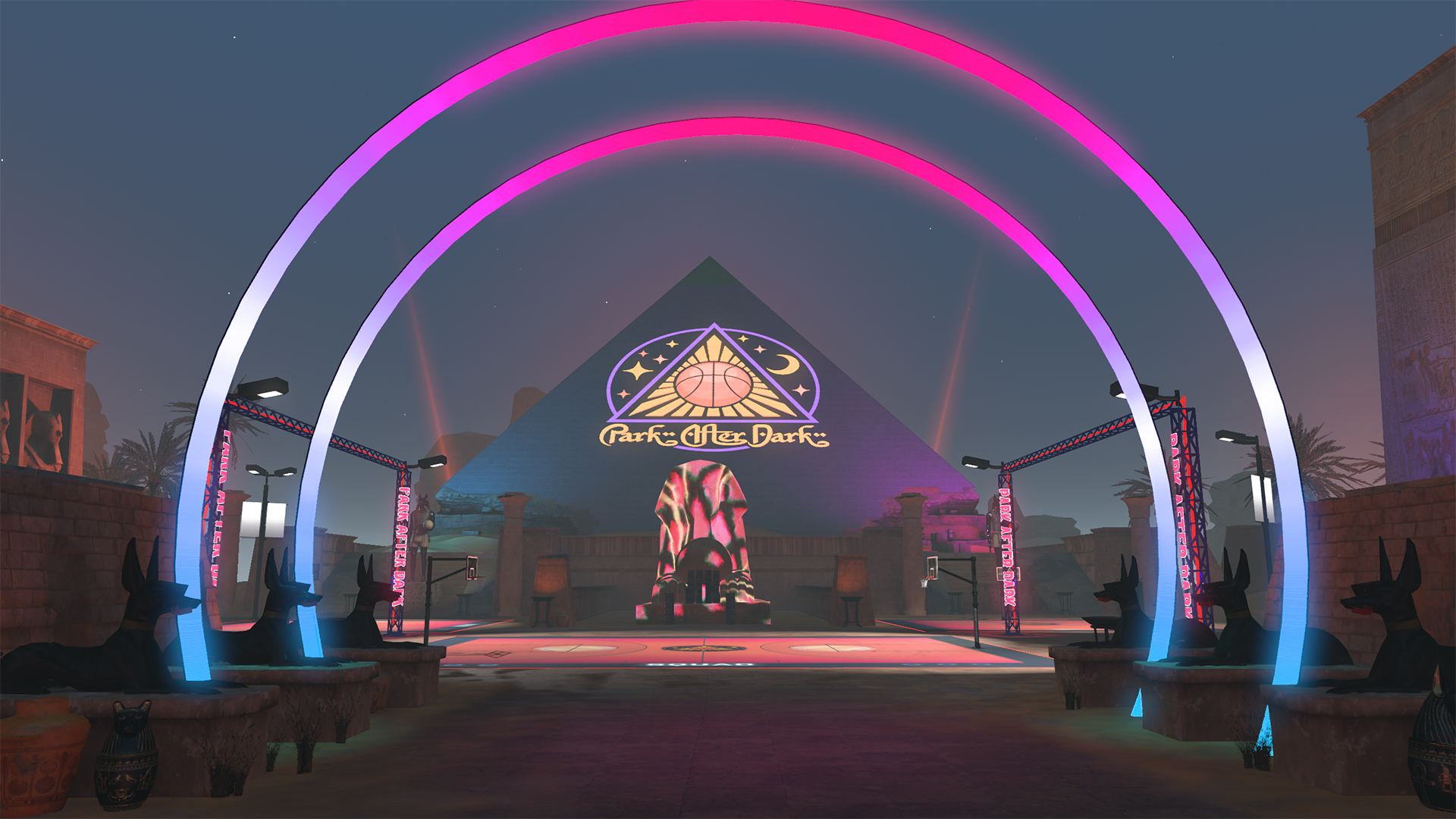 Following the Halloween activities, be sure to check out the new excursion: Park After Dark coming later in Season 2! At a soon-to-be disclosed location, players can hoop, shuffle and rave in the desert. A variety of experiences will be made available for players, ranging from dunk contests to shootouts, plus 2v2 and 3v3 courts. Accessorize your wardrobe and pop under the blacklights with fun and crazy styles to make your game stand out even more.
MyTEAM
MyTEAM community! Producer Jonathan Smith here to break down how you can Build Your Empire in Season 2 of MyTEAM.
Let's get started with Triple Threat Online: The 100. We've heard your feedback on the mode and for Season 2 onward, wins in TTO will NOT subtract your opponent's points from your 100. Now it will be easier than ever to reach the Tier 3 Ball Dropping goodness available throughout the Season. While the great rewards remain, we will be adjusting the number of Ball Drops per win, and loss, for each tier. Be on the lookout for special Event Cards available from these Ball Drops to use in The Exchange (more on that later), but for now, I am looking forward to continuing to compete against everyone in the community on the Rooftop!
We have one more mode change in NBA 2K22's Season 2. Each tier in Unlimited will now have 16 games available. So, in the Galaxy Opal tier, everyone will have 16 games to get the 12 wins needed for Unlimited's featured player reward card. No more perfect 12-0 records will be required against the most competitive community in 2K to earn the Seasonal Grand Prize (which is Pink Diamond Gary Payton in Season 2!). With these updates comes a new, greater challenge. Enter the Showdown Tier, a new level of MyTEAM Unlimited beyond Galaxy Opal where only the best of the best can get 65 wins in this 82-game tier. Those who reach the Showdown Tier will have the opportunity to earn an Exchange Event Card that will net them an easy 15,000 XP towards Season 3! Not a typo, you can earn a quick path to level 23 in December by competing in Season 2.
With the TWO $250,000 MyTEAM Unlimited Tournaments ongoing and big changes to two of MyTEAM's popular online modes, we also need to shine a light on the Single Player updates in MyTEAM. The third Domination comes to Season 2 for you to compete against all 75 years of NBA history in the NBA 75 Domination. In the main 30 games, you will face All-NBA opponents from every year in the NBA! How will your best lineup fare? Or rather, who will coach your best against these opponents?
PLAYER COACH CARDS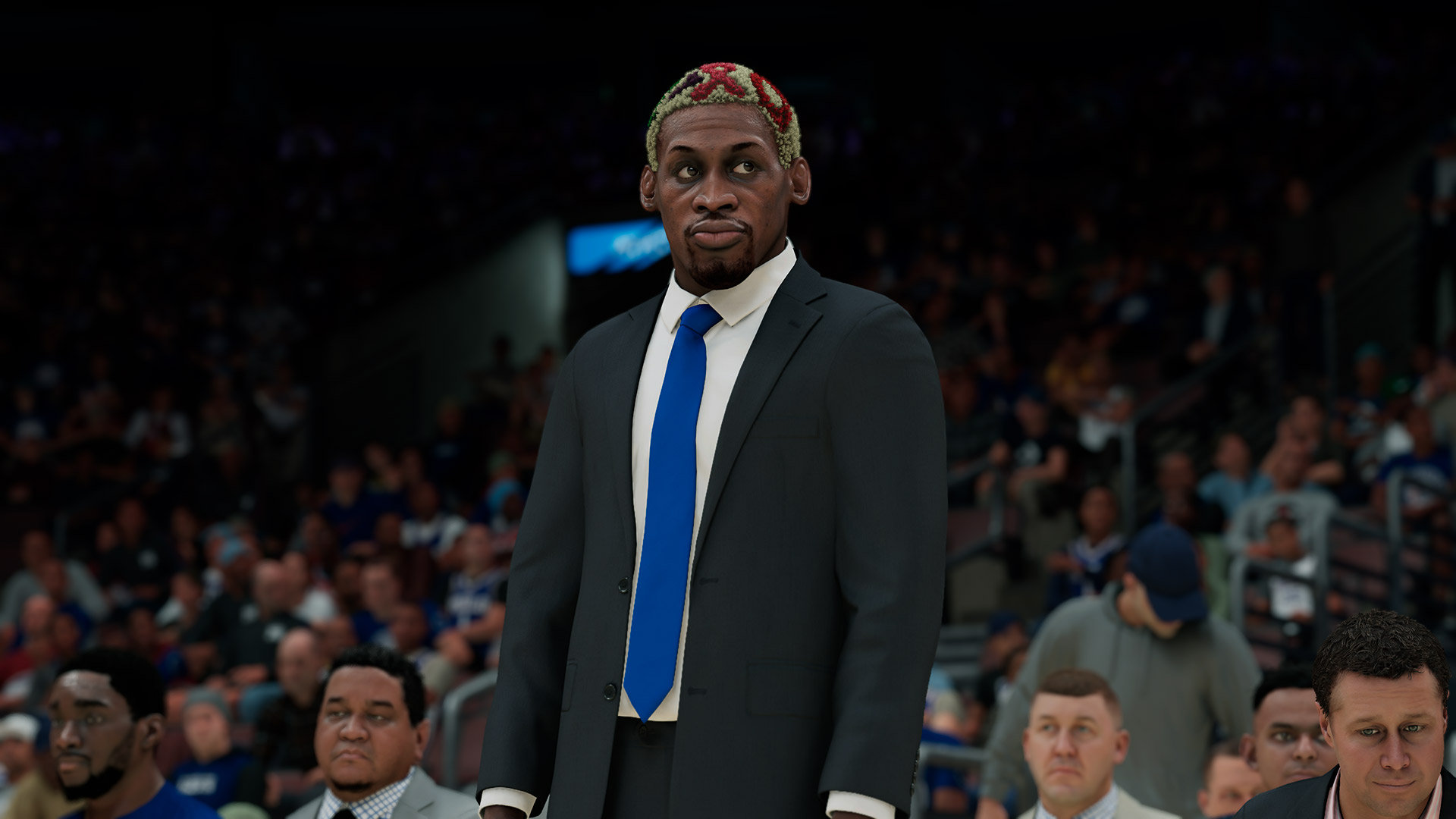 Introducing the first-ever Player Coach Cards in MyTEAM. For earning 3 Stars in each NBA 75 Domination game, you will earn a Ruby Player Coach Card featuring a wide variety of NBA players over the course of the league's storied history. 70s-era Dr. J, Showtime Kareem, imposing Shaq, Rondo, LeBron, KD, Yao, Zion, and more can lead your team from the sideline across all 8 Systems available in MyTEAM. Waiting for you at the end of the NBA 75 Domination is 3 games against the 50s-70s, 80s-90s, and 00s-20s All-Star teams which can add Diamond Player Coach Bill Russell, Dennis Rodman, and Stephen Curry to get the absolute most out of your lineup! Remember that you must complete at least 33 Stars from the Current and All-Time Dominations before you can enter this new tier, so get out there and dominate the NBA's greatest with your dream team!
THE EXCHANGE
I touched on it earlier, but The Exchange is also seeing a few new additions. First, we've added categories to help organize all the new, and existing Exchanges you can make with cards from your collection. Included are new Recurring Exchanges, which can regenerate after an hour, a day, a week, or whenever specified in the title. Next, you'll want to keep an eye on the new Event Exchanges, which will expire after a short period of time, or at the end of a Season. To protect against losing cards to an Event Exchange that expires before it is completed, any Event Exchange that has progress towards it will continue to be available after the expiration timer runs out.
NBA IS BACK!
With the 75th NBA season underway, we are launching Season 2: Build Your Empire with a new foundation of player cards representing the current NBA. '22 NBA Series 1 players will be available in new League packs, including new Premiere Packs, to add to your collection and lineups. These new player cards will also appear alongside the launch of MyTEAM Base Set in premium packs in the Pack Market and will be added to the Position Packs to compete with online in MyTEAM: Draft. Led by four powerful Diamond versions of Giannis, KD, LeBron, and Curry, pick up your favorite current stars of the NBA to earn XP and complete collections in this brand-new set!
BUILD YOUR EMPIRE
So, how will you Build Your Empire in MyTEAM? Everyone who enters the Season menu in Season 2 will receive a Free Agent Michael Jordan to begin earning XP and captain your lineup. Plus, you can pair him up with one of, if not, the greatest rebounder of all time Emerald to Bulls-red Ruby, Evolution Dennis Rodman. Build Your Empire with a foundation of your opponents' bricks by adding 'The Worm' to your collection by entering this Locker Code either in the MyTEAM Community Hub, the MyNBA2K22 App, or even in MyCAREER. THE-WORM-SEASON-2.
PINK DIAMOND REWARDS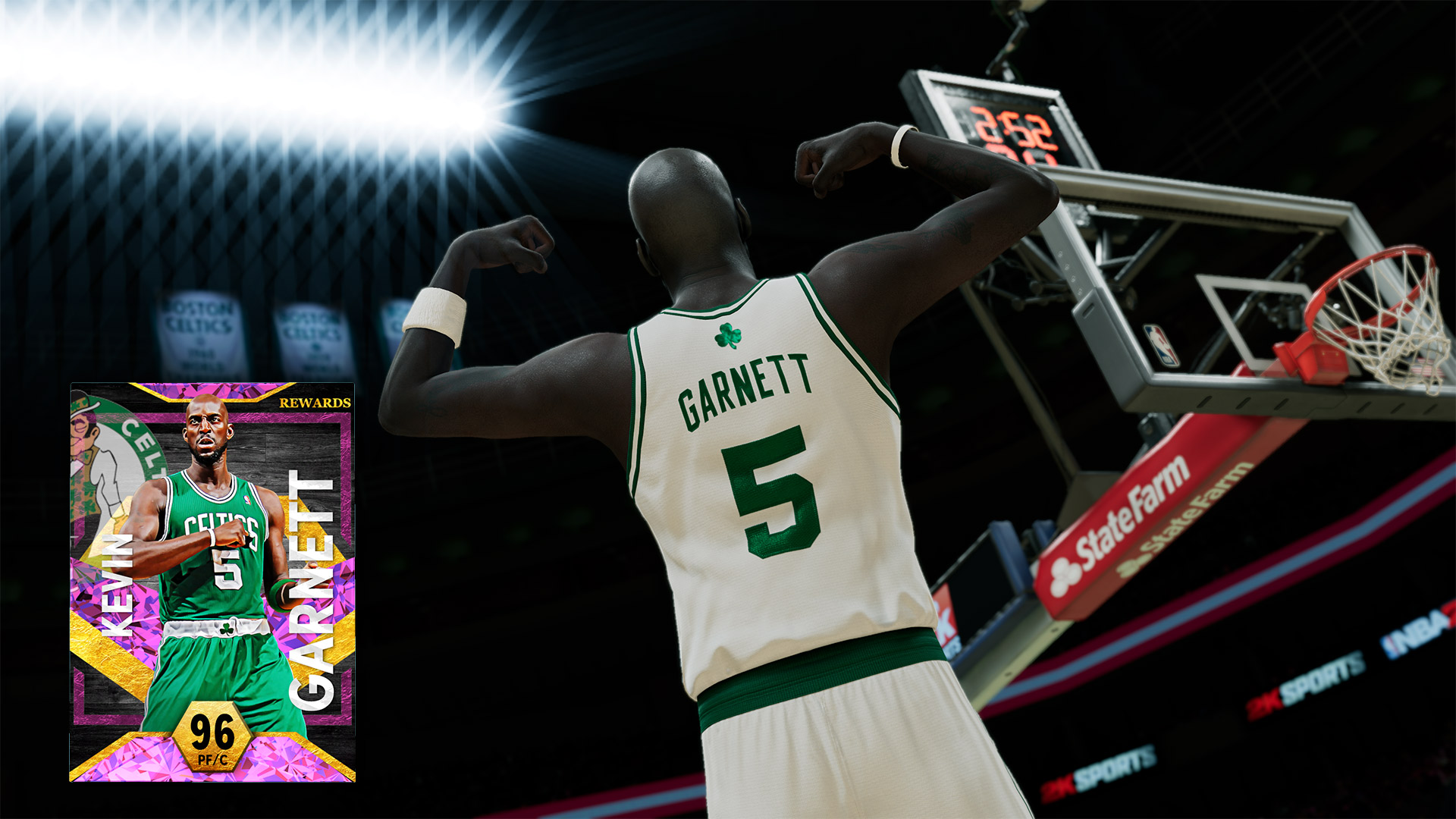 Use the GOAT and Rodman to work your way to Level 40 Reward, Pink Diamond Kevin Garnett! 'The Big Ticket' is ready to lead and protect your empire with his intense presence on the court with this 96 overall BEAST of a card. KG's all-around game can shut your opponent out and light up the scoreboard. A tried-and-true leader to push your lineup to the next level in Triple Threat Online: The 100, Unlimited, and maybe towards the bracket in the $250,000 MyTEAM Unlimited Tournament!
Joining Garnett are the following Pink Diamond Rewards:
Ja Morant by adapting & earning all 6 weekly Rings in Limited
Caron Butler as the Grand Prize in Season Ascensions
'The Glove' Gary Payton for completing the Galaxy Opal Tier of Unlimited
Amar'e Stoudemire for getting 99 Stars in NBA 75 Domination
And 'The Iceman' George Gervin in MyTEAM: Draft (with a new ticket added for all Draft players during Season 2)
You can also pick up Pink Diamond Dave Bing, Amethyst Theo Ratliff, and Sapphire Jimmy Butler from the Players section in The Exchange, or add Pink Diamond Chris Mullin, Diamond Bingo Smith, Amethyst Montrezl Harrell, & Ruby Cole Anthony from the Token Reward Market. By the way, have you earned or played against the Holographic Ball yet? Collect the common Bronze, Silver, and Gold basketballs, and complete the Token Collection Lifetime Agendas for Emerald, Sapphire, and Ruby players to hypnotize your competition with this psychedelic basketball.
On top of everything here, new Dynamic Duos are being added for the new '22 Series 1 players as well as previously released players from Season 1. Stay on the lookout for Duos that could give your lineup that extra boost needed to play your best online.
There is so much to experience in MyTEAM each week, but there is never a bad time to jump in if you are just getting started. Thank you for checking out all the latest in MyTEAM, and I'm looking forward to catching everyone on the court in Season 2!
THE W ONLINE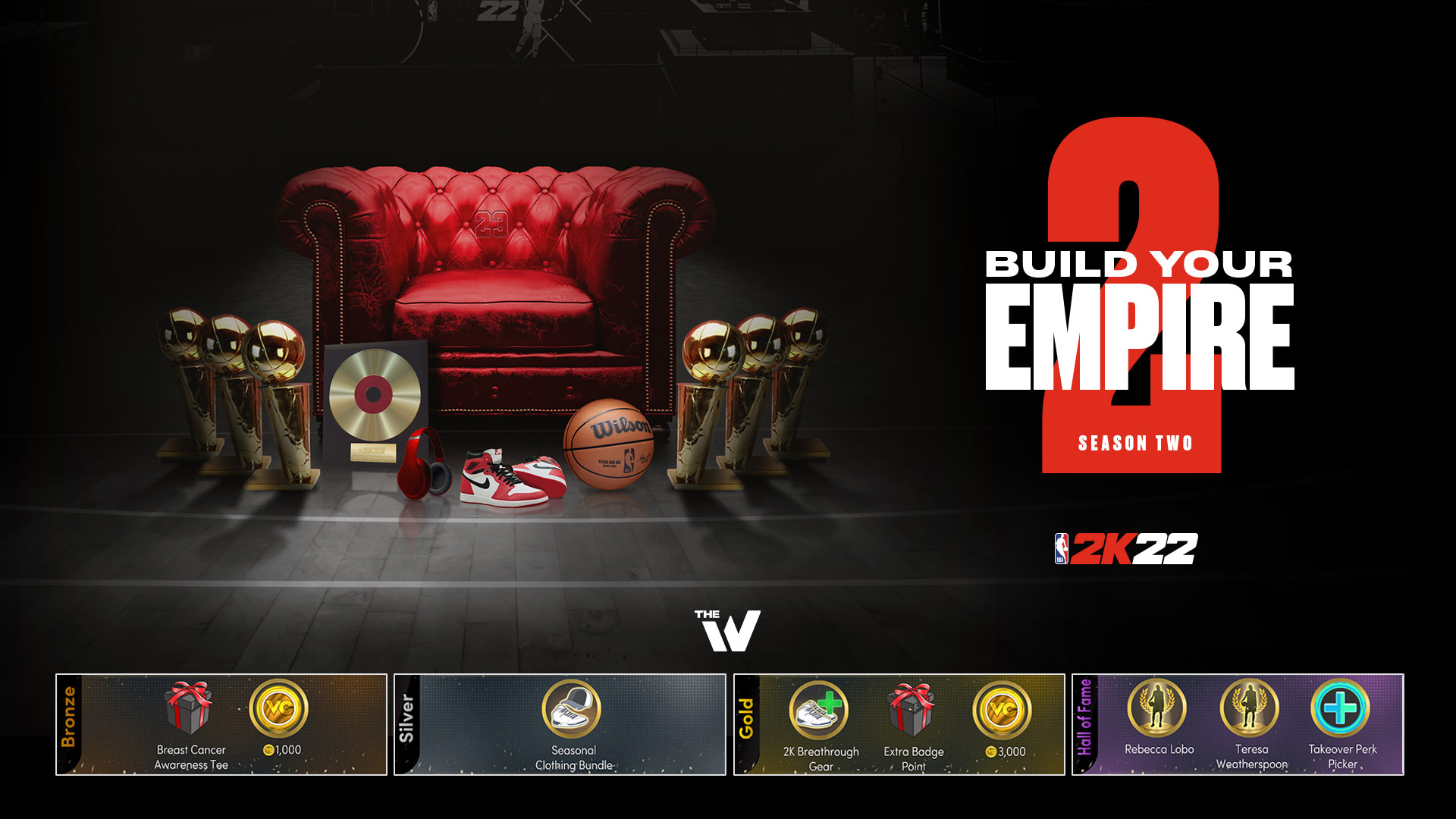 The W Online is the main place for WNBA fans to connect with friends and earn rewards. In this highly competitive arena, join forces with friends, or play solo, and go toe-to-toe with rivals to elevate your game and earn Season XP by playing games. Last season featured two historic contacts: one from the Houston Comets and another from the New York Liberty. Season 2 is adding to your ever-growing contact list and giving you a chance to connect with legendary center Rebecca Lobo and former WNBA player turned WNBA coach Teresa Weatherspoon. Climb the tiers of Bronze, Silver, Gold, and Platinum to earn up to 4,000 VC, a Seasonal Clothing Bundle, a Breast Cancer Awareness shirt, and 2K Breakthrough Gear, plus an extra Badge Point, and the Takeover Perk Picker. Make the most of your contacts and grow your game to take on grueling competition and accumulate more exciting rewards!
COLUMBIA RECORDS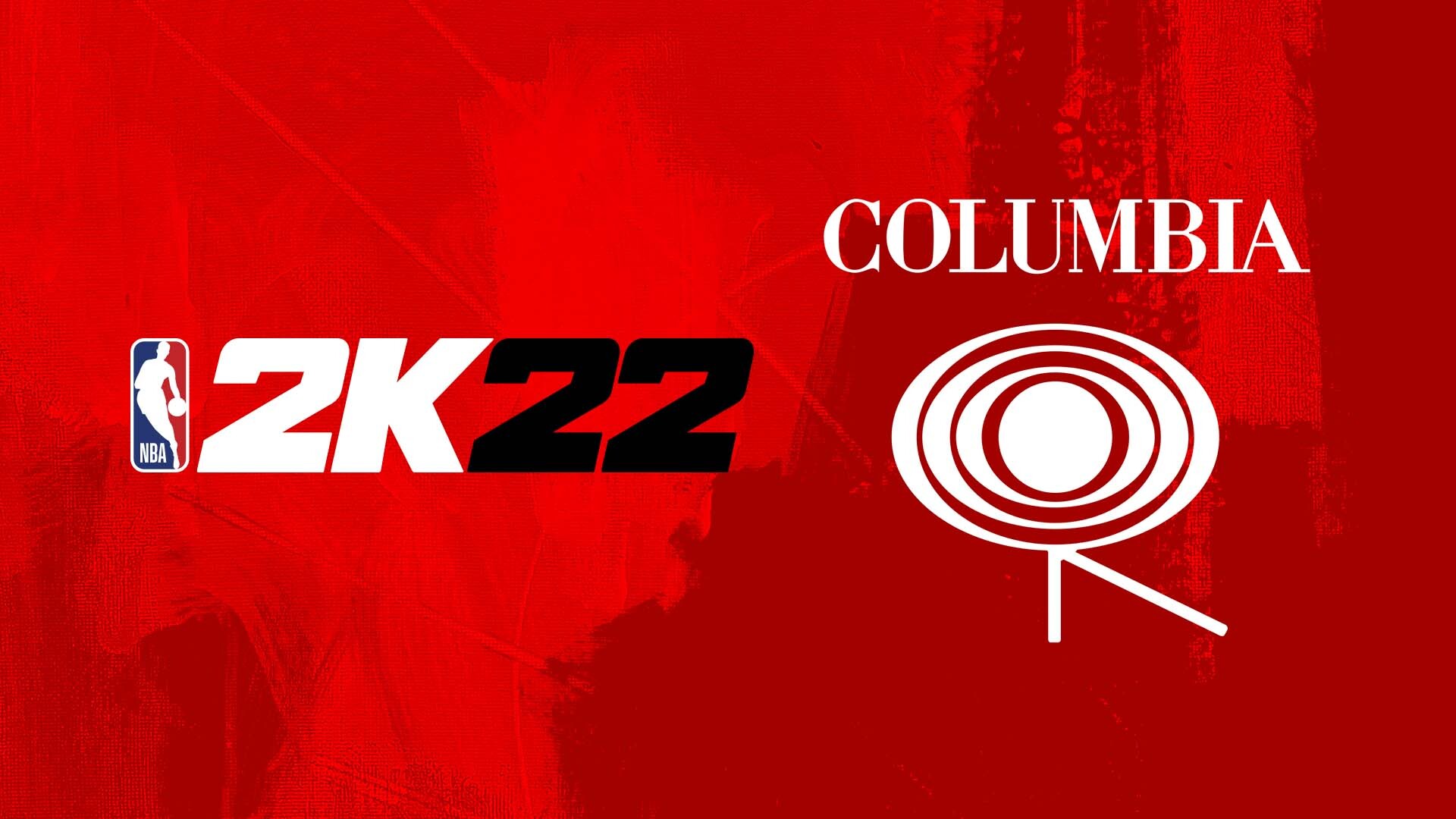 All year long, NBA 2K22 will feature a handful of artists from up-and-coming musicians to established icons. In partnership with Columbia Records, one of the most respected labels in the world, 2K is excited to showcase their artists in the soundtrack and at Club 2K. There's a diverse range of artists you can listen to in-game; whether you're roaming about or in the heat of a game. Take a look below at all the new Columbia Records artists and tracks coming to NBA 2K22:
"Prada" by 24kGoldn ft. Lil Tecca
"MIA" by SSGKobe
"Pocket Rocket" by Cochise
"family ties" by Baby Keem ft. Kendrick Lamar
"STAY" by The Kid LAROI ft. Justin Bieber
"Story Time" by Fivio Foreign
"THATS WHAT I WANT" by Lil Nas X
"Black Hearted" by Polo G
"Love Letter" by Scorey
"Harmony" by 347aidan
"One Punch" by Aries
"JUGGERNAUT" by Tyler, the Creator ft. Lil Uzi Vert & Pharrell Williams
NBA 2K22 Update 1.05 Patch Notes
GENERAL
Season 2: Build Your Empire for NBA 2K22 starts this Friday at 8AM PT. Read more about our exciting new additions and changes here in the new NBA 2K22 Season 2 Courtside Report.
Various UI updates have been made across all modes to enhance the overall experience.
New Real Voice Studio and Real Voice Sideline content has been added to the in-game broadcast presentation.
Courts/arenas for the following teams were updated to match recent changes made for the new NBA season:

Chicago Bulls
Cleveland Cavaliers
Dallas Mavericks
Miami Heat
Minnesota Timberwolves
Phoenix Suns
Oklahoma City Thunder
San Antonio Spurs
Toronto Raptors
Various G League teams
The following players and coaches have received new scans and/or had general likeness updates made to them:

Lindsay Allen (new scan)
Scottie Barnes (new scan)
Dijonai Carrington (new scan)
Keon Johnson (new scan)
Stephanie Jones (new scan)
Tre Mann (new scan)
Davion Mitchell (new scan)
Kelsey Mitchell (new scan)
Trey Murphy III (new scan)
Chiney Ogwumike (new scan)
Karlie Samuelson (new scan)
Alperen Sengun (new scan)
Jasmine Walker (new scan)
Kostas Antetokounmpo
Khem Birch
Steve Clifford
Dana Evans
Cheryl Ford
Jerami Grant
Brandon Ingram
Lisa Leslie
Ivory Latta
Kenyon Martin
Rodney McGruder
Taj McWilliams-Franklin
Chris Mullin
Deanna Nolan
Ticha Penicheiro
Kim Perrot
Pascal Siakam
Marcus Smart
Katie Smith
John Stockton
Penny Taylor
Lonnie Walker IV
GAMEPLAY
Reduced the frequency of stumbles after dunks, as requested by the community
Made some improvements to double team and switch logic on defense
Adjusted the logic for several shooting badges (including Chef, Limitless Spot-Up, Difficult Shots, Circus Threes, Rhythm Shooter, Catch & Shoot, Set Shooter, and Stop and Pop) so that each one triggers under the intended conditions and at the proper shooting ranges
Players can now dunk more frequently in certain situations even when not using the skill dunk mechanic
Locked the Y-position of the shot meter while in the act of shooting to make it easier to read
Fake passes will no longer turn into unwanted bounce passes if triggered during a pump fake
Fixed an issue where you could transition from a post hop shot away from the rim and into a running self alley-oop towards the rim
Adjusted collision detection on certain take charge animations to prevent unwanted collisions
Fixed an issue where shimmy hooks could be played from the 3PT line
Resolved a rare issue where the AI could get caught in an unintentional size-up move
Addressed a community-reported issue where the AI could get stuck attempting several fake passes in a row
Technical free throws will no longer be incorrectly awarded on defensive off-ball fouls in the last 2 minutes of a game
Gameplan will now be properly turned off when the user turns ACE off in the menu
CITY/PRO-AM/REC
Many continued improvements to performance and stability have been made to enhance the overall experience
Addressed issues with invites and voice chat as reported by the community
You can now properly access the courts in the Gatorade Training Facility while in a squad
Your MyPLAYER will now wear the proper shoes when playing in Pro-Am games
Resolved some issues with Pro-Am recruit stats not always displaying correctly
You can now wear purchased items out of pop-up stores in the City
MyCAREER/QUESTS
Multiple fixes and adjustments have been made to improve the overall quest experience
Fixed a rare issue preventing certain users from becoming the starter at the expected time in Toe The Line quest
The Edit Playbooks menu will now properly be available when the associated quest is completed
Resolved some issues that were preventing certain stat-related and season-long quests from correctly tracking and completing
Addressed some issues with endorsement contracts and the associated rewards
Fixed an issue with the Suggest Free Agents menu not working correctly after unlocking it via the associated quest
The Belle of the Ball achievement will now correctly unlock when completed
Resolved some issues with the reward collection from the buildings purchased in the Music and Fashion arcs
MyTEAM
Various improvements and support for Unlimited and Triple Threat Online: The 100
Added support for Recurring and Event Exchanges
Various additional improvements to The Exchange to improve the overall user experience
Made several improvements to Ball Drops
Added Event Card support for Auction House searches from My Collection
Signed Player Cards will no longer have distorted backgrounds in-game
Certain player stats like overall record will now display correctly in menus
Boosts applied to Shoe Cards will now correctly be applied in games
Added support for searching for Shoe Colorway Cards by brand in the Auction House
Timers in the Pack Market will now display the proper amount of days remaining
Restarting during Skill Challenges should now work as intended
Fixed setting lineups in Triple Threat Play With Friends
Addressed an issue that prevented players from viewing the opponent's starting lineup before online games
Prevented a situation where players could accidentally select multiple packs at once in MyTEAM: Draft
MyNBA/THE W
Various stability fixes and improvements have been made for MyNBA, MyNBA Online, and The W
Training and Conditional Coaching are now properly supported in MyNBA Online
The various financial-related menus and additional trade options are now accessible in MyNBA Online
Ticker scroll speeds have been reduced, as requested by the community
Generated players now no longer default to having slow shot-timing
You can now edit tendencies for players in draft classes
Fixed a hang that could occur in the offseason when toggling between user-controlled teams
Resolved an issue with certain downloaded draft classes that could cause problems when simulating ahead in the season
Resolved an issue with the broadcast camera when used in certain WNBA arenas
Addressed an issue in The W that could prevent users from passing the ball during an inbound despite having Full Team Control on
New NBA 2K22 "Rebirth" Quest – Rebirth reward is now available as a quest.
Addressed the Free Agent bug
Addressed the Walkback glitch.
Added improvements to the draft stock system in MyCAREER to better reflect your status.
Fixed a hang that could occur when changing badge loadout during shootarounds in the City.
Fixed a bug where some players would briefly appear invisible when riding vehicles in the City.
Addressed a bug with invites after finishing a Pro-Am game as a squad.
How To Start NBA 2K22 Rebirth Quest?
You need to start a new City quest from ATM. All you need to do is play 10 3v3 or 2v2 games. You don't need to have any affiliation to complete the quest with the required games.
Once you have completed the quest, you will be able to make new builds and have 30 badge points unlocked for use. It is possible then that you will be able to upgrade them to 90 OVR without any issue.
Download free NBA 2K22 patch 1.05 on Sony PlayStation 4, PC, and Xbox One.