A new Madden 20 update 1.12 released for PS4 and Xbox One players. According to the Madden 20 version 1.12 changelog, the new update brings a new Madden mode, new Superstar X-Factor & Superstar Abilities and more. Apart from this, the latest Madden NFL 20 update 1.12 also includes stability and performance improvements.
Previously, a big update was released with new features, balancing, gameplay changes and a big list of bug fixes. Unfortunately, since the last patch, many players are still experiencing several issues while trying to play the game. Today's Madden 20 update 1.12 is expected to fix a few of these issues. Check out more details below.
Madden 20 update 1.12 patch notes
Key Highlights:
Superstar KO Mode has been added as an exciting new way to play Madden NFL 20: Squad up and take down the competition in Madden's fastest co-op eliminator mode featuring quick games, a unique stadium and commentary, dynamic rules, and icons of the football culture.
What is Superstar KO?
Superstar KO is a brand new, online eliminator mode for Madden 20. It is a celebration of football, a game that combines Superstar X-Factors, custom rules, and unique teams with a new, unique stadium and commentary style to provide a brand-new play experience you can't get anywhere else. It is all about fast-to-fun gameplay, where every play matters, and games that can last from 30 seconds to 10 minutes. It always presents you interesting choices, whether it be about how you build your team, or how you overcome or take advantage of mismatches. But most of all, it is just fun. We've been working on this in secret for a while, and now that that cat is out of the bag, the entire team can't wait to play with you.
You'll each get a chance to score in phase one, Superstar OT, and if you are still tied, you can settle the score in a brand-new house rule called Tug of War. The play on the field is dominated by Superstar X-Factors. You will be given a few to start, as well as the chance to earn (or steal!) more, but best of all, the X-Factors are active from the very first play. If you've wanted to see the full power of the NFL's best, Superstar KO is the place. Finally, they all come together on eight brand new teams developed exclusively for Superstar KO. They have custom playbooks and rosters that give each team a unique flavor. From the air-it-out style of Dot City, to the defensive mastery of Shutdown. Each playbook is created to have strengths and weakness that create interesting mismatches and situations.
Superstar KO takes place in a custom-designed stadium. Like a festival for the best football on the planet, it is in an undisclosed location where players with the X-Factors of today meet the Legends of yesterday, and maybe even some Iconic superfans as well. Calling the action is our DJ and announcer, Tre Mo, who stays on top of the game, but makes sure you know exactly how everyone is doing. The crowd gets into it as well, and they are known to be incredibly vocal. It is a vibe where fun rules, big plays are the norm, and you are never far from the action. Winning is exhilarating but losing never hurts—just jump back in and build a new team to take the crown. Finally, you can expect us to keep updating Superstar KO as the year progresses. We've got a bunch of new rules, players, and ideas that will keep the game fresh. But first, let's get into how you play.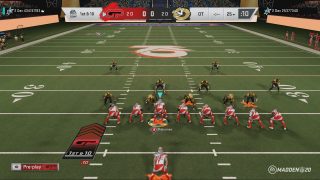 How Do I Play Superstar KO?
Once you come into Superstar KO, you have your first choice. You can play 1v1, 2v2, or 3v3. Each queue is unique, and you will match up with others who are playing with the same number of players. For solos, just click the play button. Squads will play once everyone you've invited or matchmake with is ready.
New Pat Tillman Superstar X-Factor Ability

Selfless: When players with this ability enter the zone, they will receive no benefits but will instead put all of their on-field teammates in the zone, until each is knocked out with their individual default knockout conditions.

This ability will be available in both Franchise and Ultimate Team. For Ultimate Team, this ability is exclusive to the MUT Master Pat Tillman player-item.

New Superstar Kick Return Ability

Return Man: Players with this ability can quickly shift momentum and change directions without sacrificing speed on kick and punt returns.

This ability is currently available in Play Now, but will not be available in Ultimate Team until mid to late September and added to Franchise very soon in an upcoming title update.
Global Updates:
General Stability and connectivity improvements
Updated player likenesses for the following NFL players:

Raiders TE Foster Moreau
Saints S Chauncey Gardner-Johnson
Redskins OLB Montez Sweat
Franchise Updates:
Fixed an issue preventing users from resuming leagues after creating league via Play Now Live and getting disconnected from the server due to inactivity
Fixed an issue causing the main menu to show a 'Corrupt File' message when trying to load a saved league from the Main Menu tile
Presentation Updates:
Increased volume of music during post-game highlights
Various commentary updates and fixes
Updated Online post-play cameras to avoid frequent cycles through multiple cameras
Gameplay Updates:
Fixed an issue causing the spot of the ball to be incorrect after a Holding penalty is accepted after a turnover
Tuning to decrease the frequency of successful hit stick tackles and increase the frequency of broken hit stick tackles
Tuning to increase the 'break-on-ball' reaction times for zone coverage defenders

DEV NOTE: Based on player feedback, we've increased the break-on-ball reaction time by two tenths of a second. You can expect Superstars and X-Factors to break consistently on the QB's arm movement based on their specific coverage abilities. For players without abilities, the Zone Coverage (ZCV) rating will determine how quickly and how frequently they will react to passes when in zone coverage; the Man Coverage (MCV) rating will do the same if they've converted to man via any Match zone. This change will make zone defenders more aggressive and will apply to all game styles: Competitive, Simulation and Arcade. There will be more zone-specific tuning coming in a future title update.

Fixed an issue sometimes allowing specific QB's to enter a state where they could not be tackled while scrambling behind the line of scrimmage
Ultimate Team Updates:
Fixed an issue causing the incorrect challenges to appear in the post-game screens in Ultimate Challenges
Fixed an issue causing some users to get kicked to an incorrect menu after the party leader would choose a new challenge in Ultimate Challenges
Fixed an issue causing the 'Top 3' players to sometimes show players that are not on the opponent's roster
Fixed an issue in Squads causing users who had left a lobby to still appear to teammates as being active in the lobby
Updated item art to include the player archetype on the front of the item
Madden NFL 20 patch 1.12 addressed various crashing issues.
Added online stability improvements.
Fixed some audio-related issues.
Fixed freezing and lag issues.
Some minor under the hood fixes.
Madden 20 update 1.12 for PS4 and Xbox One is now available for download.