[Farming Simulator 22] FS22 update 1.18 (v1.9) is available on PS4, PC, PS5, and Xbox. According to the official FS22 1.18 patch notes, the update adds support for theGöweil Pack (Release: March 20th). Apart from this, FS22 patch 1.18 (1.170) also adds a new storage building and a 'Screenspace Shading Rate' option for improved performance.
Recently, a major update added resolved issues with Manitou MC 18-4 and a crash with loading savegames. Unfortunately, players are still facing a number of bugs with the game. Today's FS22 version 1.18 (v1.9) will address a few of these issues.
Read more details below.
FS22 1.18 Patch Notes – March 14, 2023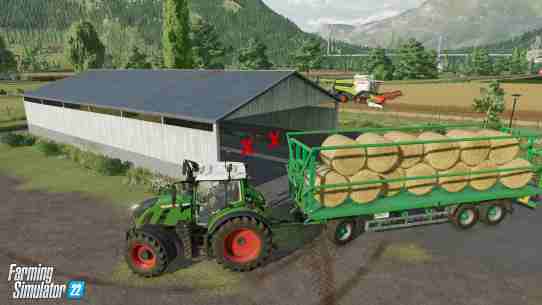 New Additions
Added bale and pallet storage building
TMR can now be transported with silage trailers
Added 'Screenspace Shading Rate' option for improved performance
Added support for Goweil Pack.
Bale and wrap corn silage, sugar beet pulp, mixed feed, and more with reliable high-tech machines like the Göweil LT-Master F115!
Deploy stationary and autonomous baler-wrappers like the G4010 Q Profi at your farm to achieve a high output of bales in variable shapes & sizes.
Roller wrappers like the Göweil G1015 attach to your front loader or three-point hitch to transport, wrap, and stack your bales – with one single machine!
Add silage additive tanks to your baler wrapper combinations to produce bales of even higher quality than before – now with net binding, too.
In steep conditions of your mountainous farmlands, use the bale turner to drop your bales. Don't lose time running after your round bales!
Move and store your bales safely with new bale grippers and bale forks – so you always have enough TMR and other resources in stock.
Bugfixes & Changes
Fixed discharging of Kuhn SPW Intense
Fixed state of bale wrappers after savegame loading or joining in multiplayer
Visual fixes on Claas XERION, Hardi Aeon, Hawe SUW, John Deere 6R, Krone BiGX & Manitou MLT 625
Fixed start duration of Zetor Z-25K
Fixed server list not refreshing after canceling password dialog
Modding
Added support for up to 64 fruit types in mod maps
Download free Farming Simulator 22 patch 1.9 on PlayStation 4, PlayStation 5, PC, and Xbox One.