Fallout 4 update 1.29 is now rolling out for players on PlayStation 4. According to the official Fallout 4 1.29 changelog, the new update includes new Creation Club contents. Apart from this, Fallout 4 version 1.29 also includes fixes for the minor issues related to server performance, game client, and UI bugs.
The previous update was also released with a similar list of fixes. Unfortunately, since the release of this patch, many players were experiencing a number of issues when trying to play the game. Today's Fallout 4 version 1.29 patch is expected to resolve these issues. Check out more details below.
Fallout 4 Update 1.29 Changelog
Holiday Pack – Santa knows who's been naughty and who's been nice. In fact, he's kept a running list for the past two hundred years, and stocked plenty of gifts for all the Commonwealth. Find his crate of goodies and unpack new clothing, weapon and armor skins, over 60 workshop items, and many individual ornaments for your rebar Christmas tree to keep your settlement and its inhabitants dressed for the holiday season!
Zetan Weapon Pack – In farmlands untouched by progress, aliens known as Zetans descend on our planet, carrying with them powerful weapons made of unknown technology. For what purpose, no one knows. But watch the skies, and you may soon find out. Includes three out of this world weapons.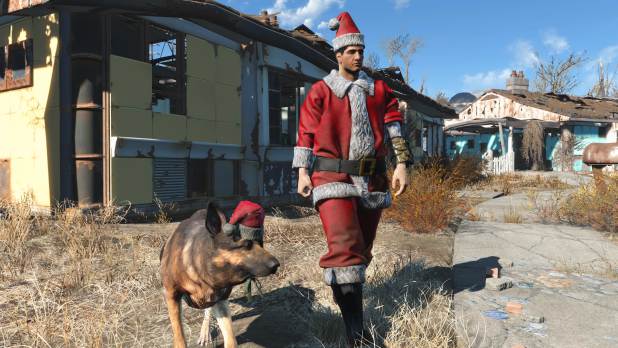 Pint-Sized Slasher – Who hasn't heard the story of the Pint-Sized Slasher, the tiny terror of suburbia? Whether it's his frightful clown mask or his signature chef's knife, having become one of the more popular legends in American folklore. Some believe the Pint-Sized Slasher only a myth, though the bodies tell a different story.
Faction Fashion Armor Skin Bundle – They say people wear their heart on their sleeves, and their faction everywhere else. Choose from the Children of Atom, Enclave, Reilly's Rangers, Tunnel Snakes, and Pickman armor skins, and rep a group beyond the traditional Wasteland factions.
Faction Fashion Weapon Skin Bundle – There's no better way to rep a faction than to paint it on your gun. Choose from the Children of Atom, Enclave, Reilly's Rangers, Tunnel Snakes, and Pickman weapon skins, and let your enemies know who shot them.
Other Changes in Fallout 4 1.29
Added fixes for crashing issues with Fallout 4 patch 1.29.
Fixed some glitches with Fallout 4 PS4 1.29 update.
Added fixes for stuttering and lag issues.
Fallout 4 1.29 for PS4 has also added performance and stability improvements.
Minor gameplay improvements added with Fallout 4 1.29.
Addressed various UI issues.
Added other minor fixes and changes with Fallout 4 version 1.29.
Addressed various animation pop issues.
Fallout 4 update 1.29 is now available for download on PS4 and Xbox One.